Your support is needed to keep the Auction Tools and Aggregators running!If you find the tools of benefit, please consider becoming a
PATREON SUPPORTER
for either $3 or $7 per month. Thank you!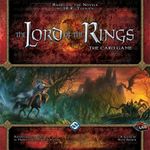 The Lord of the Rings: The Card Game (2011)
Subdomain: Customizable Games
Player Count: 1 - 2 | Playing Time: 60 minutes
Share this page on BGG by pasting the following BGG Link into any post
(click box to select all, then copy to clipboard)
.
---