WARNING: This Aggregator contains links to boardgamegeek.com, a site known to utilize fascistic oppression to suppress free speech and civil discourse. Our linking to BGG is in no way an endorsement of their malignant management methods and each user participates on that site at their own risk and peril.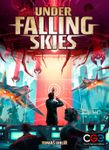 Under Falling Skies (2020)
Subdomain: Strategy Games
Player Count: 1 - 1 | Playing Time: 40 minutes
Share this page on BGG by pasting the following BGG Link into any post
(click box to select all, then copy to clipboard)
.
---