Your support is needed to keep the Auction Tools and Aggregators running!If you find the tools of benefit, please consider becoming a
PATREON SUPPORTER
for either $3 or $7 per month. Thank you!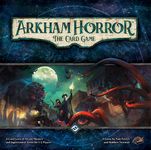 Arkham Horror: The Card Game (2016)
Subdomain: Customizable Games
Player Count: 1 - 2 | Playing Time: 120 minutes
Share this page on BGG by pasting the following BGG Link into any post
(click box to select all, then copy to clipboard)
.
Game Entries by Month
| | | | |
| --- | --- | --- | --- |
| [BGG] | WingTale | 2021-01-17 | [SGOYT] |
| [BGG] | Dmesserly | 2021-01-07 | [SGOYT] |
| [BGG] | Dmesserly | 2021-01-05 | [SGOYT] |
| [BGG] | Dmesserly | 2021-01-05 | [SGOYT] |
| [BGG] | Dmesserly | 2021-01-04 | [SGOYT] |
| [BGG] | aitfigaro | 2021-01-01 | I think this will be more entertaining the more familiar I am with the gameplay. Moderate set-up. [SGOYT] |
| [BGG] | IvanKazakov | 2020-12-30 | [SGOYT] |
| [BGG] | symesr | 2020-12-21 | [SGOYT] |
| [BGG] | Rixte | 2020-12-06 | [SGOYT] |
| [BGG] | squallgoku | 2020-11-11 | [SGOYT] |
| [BGG] | squallgoku | 2020-11-11 | [SGOYT] |
| [BGG] | Rixte | 2020-11-08 | [SGOYT] |
| [BGG] | Swizze | 2020-10-23 | [SGOYT] |
| [BGG] | jeche | 2020-10-19 | [SGOYT] |
| [BGG] | Swizze | 2020-10-17 | AH: TCG is a really fun game, that makes you want to explore every room and see where the story leads you [SGOYT] |
| [BGG] | Tobina | 2020-10-13 | [SGOYT] |
| [BGG] | bloodmage | 2020-10-12 | A customizable cooperative card game with heavy lovecraftian story elements that will do great damage to your wallet. [SGOYT] |
| [BGG] | MadMihi | 2020-10-11 | [SGOYT] |
| [BGG] | jeche | 2020-09-28 | [SGOYT] |
| [BGG] | jeche | 2020-09-27 | [SGOYT] |
| [BGG] | jeche | 2020-09-20 | [SGOYT] |
| [BGG] | ArtyomTrityak | 2020-09-17 | [SGOYT] |
| [BGG] | CSerpent | 2020-08-26 | [SGOYT] |
| [BGG] | jeche | 2020-08-16 | [SGOYT] |
| [BGG] | jeche | 2020-08-07 | [SGOYT] |
| [BGG] | Ben_Bos | 2020-08-01 | [SGOYT] |
| [BGG] | jeche | 2020-07-12 | [SGOYT] |
| [BGG] | nkfloofiepoof | 2020-07-08 | [SGOYT] |
| [BGG] | ojtBGG | 2020-07-07 | [SGOYT] |
| [BGG] | hiimjosh | 2020-06-29 | [SGOYT] |
| [BGG] | mihnea_1309 | 2020-05-26 | [SGOYT] |
| [BGG] | CobraMisfit | 2020-05-26 | [SGOYT] |
| [BGG] | PhishBoy | 2020-05-23 | [SGOYT] |
| [BGG] | Vooshvazool | 2020-05-19 | [SGOYT] |
| [BGG] | Zouave | 2020-05-08 | [SGOYT] |
| [BGG] | Ben_Bos | 2020-05-06 | [SGOYT] |
| [BGG] | mihnea_1309 | 2020-05-05 | [SGOYT] |
| [BGG] | BunniCladwell | 2020-05-02 | [SGOYT] |
| [BGG] | Ben_Bos | 2020-04-25 | [SGOYT] |
| [BGG] | MadMihi | 2020-04-23 | [SGOYT] |
| [BGG] | Brenoit | 2020-03-07 | [SGOYT] |
| [BGG] | Rixte | 2020-03-02 | [SGOYT] |
| [BGG] | beatsmd | 2020-02-06 | This challenging card game, which includes just a bit of RPG, is fascinating, fun, and—in just the right thematic way—infuriating. [SGOYT] |
| [BGG] | thewilyf | 2020-02-01 | [SGOYT] |
| [BGG] | beatsmd | 2020-01-20 | This challenging card game, which includes just a bit of RPG, is fascinating, fun, and—in just the right thematic way—infuriating. [SGOYT] |
| [BGG] | thewilyf | 2020-01-04 | [SGOYT] |
| [BGG] | Rixte | 2020-01-03 | [SGOYT] |
| [BGG] | Razoupaf | 2020-01-03 | [SGOYT] |
| [BGG] | electronsonmars | 2020-01-01 | [SGOYT] |
| [BGG] | Rixte | 2019-12-31 | [SGOYT] |
| [BGG] | mournful | 2019-12-29 | [SGOYT] |
| [BGG] | KatonFrogMedium | 2019-12-01 | [SGOYT] |
| [BGG] | ojtBGG | 2019-11-30 | [SGOYT] |
| [BGG] | ojtBGG | 2019-11-09 | [SGOYT] |
| [BGG] | Robble | 2019-10-13 | [SGOYT] |
| [BGG] | tizgart | 2019-10-07 | [SGOYT] |
| [BGG] | Windshield | 2019-10-05 | [SGOYT] |
| [BGG] | SoundCity | 2019-08-30 | [SGOYT] |
| [BGG] | brendanmoneill | 2019-08-28 | [SGOYT] |
| [BGG] | repairmanjack | 2019-08-25 | [SGOYT] |
| [BGG] | VampyreInABox | 2019-08-06 | [SGOYT] |
| [BGG] | Xabbusan | 2019-07-17 | [SGOYT] |
| [BGG] | mrmagpieman | 2019-07-09 | [SGOYT] |
| [BGG] | DeadSquirrel | 2019-06-01 | [SGOYT] |
| [BGG] | Rixte | 2019-05-28 | [SGOYT] |
| [BGG] | MadMihi | 2019-05-26 | [SGOYT] |
| [BGG] | mournful | 2019-04-10 | [SGOYT] |
| [BGG] | mournful | 2019-04-07 | [SGOYT] |
| [BGG] | mournful | 2019-04-06 | [SGOYT] |
| [BGG] | mournful | 2019-04-04 | [SGOYT] |
| [BGG] | Albia | 2019-04-04 | The opening scenario sets the stage for a vast game filled with a plethora of investigators, decks, scenarios, and much more. [SGOYT] |
| [BGG] | mournful | 2019-04-04 | [SGOYT] |
| [BGG] | VincentDarlage | 2019-04-01 | [SGOYT] |
| [BGG] | Rixte | 2019-03-04 | [SGOYT] |
| [BGG] | metajack | 2019-03-03 | Roland and Daisy triumphed and saved Arkham during the Night of the Zealot. [SGOYT] |
| [BGG] | Arven | 2019-02-21 | Arkham Horror takes a while to get into, but is rewarding with a good AI narrative system. [SGOYT] |
| [BGG] | Angie666 | 2019-02-06 | [SGOYT] |
| [BGG] | Angie666 | 2019-02-05 | [SGOYT] |
| [BGG] | drpaj | 2019-02-04 | [SGOYT] |
| [BGG] | mrgrumpy | 2019-01-21 | [SGOYT] |
| [BGG] | mrgrumpy | 2019-01-18 | [SGOYT] |
| [BGG] | Falkenstein | 2019-01-07 | [SGOYT] |
| [BGG] | BiggityBogle | 2018-11-02 | [SGOYT] |
| [BGG] | BiggityBogle | 2018-10-31 | [SGOYT] |
| [BGG] | BiggityBogle | 2018-10-30 | [SGOYT] |
| [BGG] | BiggityBogle | 2018-10-28 | [SGOYT] |
| [BGG] | ralsar | 2018-10-24 | [SGOYT] |
| [BGG] | BiggityBogle | 2018-10-23 | [SGOYT] |
| [BGG] | mrmorrill | 2018-09-21 | [SGOYT] |
| [BGG] | ralsar | 2018-09-19 | [SGOYT] |
| [BGG] | mrmorrill | 2018-09-18 | [SGOYT] |
| [BGG] | ralsar | 2018-09-14 | [SGOYT] |
| [BGG] | mrmorrill | 2018-09-13 | [SGOYT] |
| [BGG] | ralsar | 2018-09-12 | [SGOYT] |
| [BGG] | ralsar | 2018-09-11 | [SGOYT] |
| [BGG] | Razoupaf | 2018-08-22 | [/b]Shooting things in the face is fun, saving on actions is better[q] [SGOYT] |
| [BGG] | MadMihi | 2018-08-08 | [SGOYT] |
| [BGG] | mihnea_1309 | 2018-07-30 | [SGOYT] |
| [BGG] | FlyingMuttley | 2018-07-20 | [SGOYT] |
| [BGG] | FlyingMuttley | 2018-07-15 | [SGOYT] |
| [BGG] | FlyingMuttley | 2018-07-13 | [SGOYT] |
| [BGG] | FlyingMuttley | 2018-07-11 | [SGOYT] |
| [BGG] | Ben_Bos | 2018-07-04 | [SGOYT] |
| [BGG] | Jdlly | 2018-06-17 | [SGOYT] |
| [BGG] | Jdlly | 2018-06-14 | [SGOYT] |
| [BGG] | patton55 | 2018-06-13 | [SGOYT] |
| [BGG] | runaway_meeple | 2018-05-31 | [SGOYT] |
| [BGG] | patton55 | 2018-05-25 | [SGOYT] |
| [BGG] | RadKit | 2018-05-08 | [SGOYT] |
| [BGG] | Shugenja | 2018-04-28 | [SGOYT] |
| [BGG] | celdom | 2018-03-31 | [SGOYT] |
| [BGG] | celdom | 2018-03-27 | [SGOYT] |
| [BGG] | mihnea_1309 | 2018-03-22 | [SGOYT] |
| [BGG] | Jhonyb | 2018-03-11 | [SGOYT] |
| [BGG] | RitterFips | 2018-02-20 | [SGOYT] |
| [BGG] | Ryanmobile | 2018-02-10 | [SGOYT] |
| [BGG] | dadoodoflow | 2018-02-08 | [SGOYT] |
| [BGG] | WingTale | 2018-01-21 | [SGOYT] |
| [BGG] | celdom | 2018-01-20 | [SGOYT] |
| [BGG] | abendoso | 2018-01-14 | [SGOYT] |
| [BGG] | abendoso | 2018-01-09 | [SGOYT] |
| [BGG] | Ben_Bos | 2018-01-06 | [SGOYT] |
| [BGG] | Dekryr | 2018-01-04 | [SGOYT] |
| [BGG] | Jorune | 2017-12-30 | [SGOYT] |
| [BGG] | dadoodoflow | 2017-12-31 | [SGOYT] |
| [BGG] | jwml | 2017-12-27 | [SGOYT] |
| [BGG] | dadoodoflow | 2017-12-26 | [SGOYT] |
| [BGG] | celdom | 2017-12-15 | [SGOYT] |
| [BGG] | repairmanjack | 2017-12-11 | [SGOYT] |
| [BGG] | dadoodoflow | 2017-12-10 | [SGOYT] |
| [BGG] | dadoodoflow | 2017-12-09 | [SGOYT] |
| [BGG] | KillerPower | 2017-12-08 | [SGOYT] |
| [BGG] | Poomba5150 | 2017-12-04 | [SGOYT] |
| [BGG] | PiHalbe | 2017-11-30 | [SGOYT] |
| [BGG] | dadoodoflow | 2017-11-28 | [SGOYT] |
| [BGG] | repairmanjack | 2017-11-27 | [SGOYT] |
| [BGG] | repairmanjack | 2017-11-22 | [SGOYT] |
| [BGG] | taeryn | 2017-11-05 | Completed the core campaign with Wendy Adams. [SGOYT] |
| [BGG] | amyotheramy | 2017-10-31 | [SGOYT] |
| [BGG] | flaeryn | 2017-10-29 | [SGOYT] |
| [BGG] | taeryn | 2017-10-27 | [SGOYT] |
| [BGG] | dadoodoflow | 2017-10-27 | [SGOYT] |
| [BGG] | Ryanmobile | 2017-10-23 | [SGOYT] |
| [BGG] | flaeryn | 2017-10-22 | [SGOYT] |
| [BGG] | govmiller | 2017-10-21 | [SGOYT] |
| [BGG] | dadoodoflow | 2017-10-20 | [SGOYT] |
| [BGG] | spaceman23 | 2017-10-15 | [SGOYT] |
| [BGG] | bills933 | 2017-10-14 | [SGOYT] |
| [BGG] | ralsar | 2017-10-09 | [SGOYT] |
| [BGG] | family_gamer | 2017-10-08 | [SGOYT] |
| [BGG] | overhaul | 2017-10-06 | [SGOYT] |
| [BGG] | family_gamer | 2017-10-06 | [SGOYT] |
| [BGG] | dobrazil | 2017-10-02 | [SGOYT] |
| [BGG] | family_gamer | 2017-10-01 | [SGOYT] |
| [BGG] | neotrunks2002 | 2017-09-28 | [SGOYT] |
| [BGG] | DocSavage2001 | 2017-09-26 | [SGOYT] |
| [BGG] | MadMihi | 2017-09-24 | [SGOYT] |
| [BGG] | patton55 | 2017-09-24 | [SGOYT] |
| [BGG] | neotrunks2002 | 2017-09-24 | [SGOYT] |
| [BGG] | ralsar | 2017-09-21 | [SGOYT] |
| [BGG] | FlyingMuttley | 2017-09-18 | [SGOYT] |
| [BGG] | jomurph86 | 2017-09-12 | Hard. [SGOYT] |
| [BGG] | repairmanjack | 2017-09-07 | [SGOYT] |
| [BGG] | 0time | 2017-08-26 | [SGOYT] |
| [BGG] | overhaul | 2017-08-17 | [SGOYT] |
| [BGG] | overhaul | 2017-08-13 | [SGOYT] |
| [BGG] | Rindel | 2017-08-12 | [SGOYT] |
| [BGG] | overhaul | 2017-08-12 | [SGOYT] |
| [BGG] | freudianslip27 | 2017-08-10 | [SGOYT] |
| [BGG] | ralsar | 2017-08-06 | [SGOYT] |
| [BGG] | thunderplex | 2017-08-01 | [SGOYT] |
| [BGG] | CthulhuKid | 2017-07-31 | [SGOYT] |
| [BGG] | jwml | 2017-07-17 | [SGOYT] |
| [BGG] | ggfunk | 2017-07-13 | [SGOYT] |
| [BGG] | 0time | 2017-07-12 | [SGOYT] |
| [BGG] | MadMihi | 2017-06-04 | [SGOYT] |
| [BGG] | mournful | 2017-06-02 | [SGOYT] |
| [BGG] | mikolajl | 2017-05-31 | [SGOYT] |
| [BGG] | benny1980no | 2017-05-11 | [SGOYT] |
| [BGG] | Ben_Bos | 2017-05-04 | [SGOYT] |
| [BGG] | King Zimm | 2017-05-03 | [SGOYT] |
| [BGG] | mikolajl | 2017-04-30 | [SGOYT] |
| [BGG] | mihnea_1309 | 2017-04-28 | [SGOYT] |
| [BGG] | Ben_Bos | 2017-04-28 | [SGOYT] |
| [BGG] | baseman422 | 2017-04-20 | [SGOYT] |
| [BGG] | TentCity | 2017-04-12 | [SGOYT] |
| [BGG] | taeryn | 2017-04-12 | [SGOYT] |
| [BGG] | Facebeard | 2017-04-10 | [SGOYT] |
| [BGG] | mrmagpieman | 2017-04-08 | [SGOYT] |
| [BGG] | Facebeard | 2017-04-04 | [SGOYT] |
| [BGG] | dgenclass | 2017-04-01 | [SGOYT] |
| [BGG] | mrmagpieman | 2017-03-22 | [SGOYT] |
| [BGG] | alamb1101 | 2017-03-21 | [SGOYT] |
| [BGG] | mrmagpieman | 2017-03-18 | [SGOYT] |
| [BGG] | dgenclass | 2017-03-18 | [SGOYT] |
| [BGG] | family_gamer | 2017-03-03 | [SGOYT] |
| [BGG] | jamjams32 | 2017-02-27 | [SGOYT] |
| [BGG] | simpsonps121 | 2017-02-28 | [SGOYT] |
| [BGG] | simpsonps121 | 2017-02-26 | [SGOYT] |
| [BGG] | fee_weasel | 2017-02-21 | [SGOYT] |
| [BGG] | King Zimm | 2017-02-20 | [SGOYT] |
| [BGG] | simpsonps121 | 2017-02-15 | [SGOYT] |
| [BGG] | ParisPink | 2017-02-14 | [SGOYT] |
| [BGG] | ChrisSmith4773 | 2017-02-11 | [SGOYT] |
| [BGG] | ParisPink | 2017-02-08 | [SGOYT] |
| [BGG] | solodad | 2017-02-05 | [SGOYT] |
| [BGG] | taeryn | 2017-02-04 | [SGOYT] |
| [BGG] | solodad | 2017-02-03 | [SGOYT] |
| [BGG] | kittenhoarder | 2017-02-03 | [SGOYT] |
| [BGG] | Ben_Bos | 2017-01-30 | [SGOYT] |
| [BGG] | edosan | 2017-01-29 | [SGOYT] |
| [BGG] | ChrisSmith4773 | 2017-01-26 | [SGOYT] |
| [BGG] | benny1980no | 2017-01-25 | [SGOYT] |
| [BGG] | stevozip | 2017-01-25 | Great game with potential for long term expandability and repeat playthroughs [SGOYT] |
| [BGG] | spaceman23 | 2017-01-24 | [SGOYT] |
| [BGG] | Rook96 | 2017-01-23 | [SGOYT] |
| [BGG] | mrmagpieman | 2017-01-20 | [SGOYT] |
| [BGG] | Redheaded Pharmacist | 2017-01-17 | This is a well designed card game with compelling art and game mechanics that will only get better with additional content and experienced play. [SGOYT] |
| [BGG] | viper34j | 2017-01-17 | [SGOYT] |
| [BGG] | crazybear | 2017-01-16 | [SGOYT] |
| [BGG] | ralsar | 2017-01-15 | [SGOYT] |
| [BGG] | spaceman23 | 2017-01-14 | [SGOYT] |
| [BGG] | ad79 | 2017-01-13 | [SGOYT] |
| [BGG] | MadMihi | 2017-01-12 | [SGOYT] |
| [BGG] | CRB31 | 2017-01-11 | [SGOYT] |
| [BGG] | mihnea_1309 | 2017-01-10 | [SGOYT] |
| [BGG] | King Zimm | 2017-01-09 | [SGOYT] |
| [BGG] | diluzio123 | 2017-01-08 | [SGOYT] |
| [BGG] | CRB31 | 2017-01-07 | [SGOYT] |
| [BGG] | Prester John | 2017-01-04 | [SGOYT] |
| [BGG] | spaceman23 | 2017-01-04 | [SGOYT] |
| [BGG] | VampyreInABox | 2017-01-03 | [SGOYT] |
| [BGG] | MisterPinstripe | 2017-01-03 | [SGOYT] |
| [BGG] | eracer68 | 2017-01-02 | [SGOYT] |
| [BGG] | DocSavage2001 | 2017-01-02 | [SGOYT] |
| [BGG] | spaceman23 | 2017-01-01 | [SGOYT] |
| [BGG] | taeryn | 2017-01-01 | [SGOYT] |
| [BGG] | DocSavage2001 | 2017-01-01 | [SGOYT] |
| [BGG] | spaceman23 | 2016-12-31 | [SGOYT] |
| [BGG] | diluzio123 | 2016-12-30 | [SGOYT] |
| [BGG] | spaceman23 | 2016-12-29 | [SGOYT] |
| [BGG] | Myrk2112 | 2016-12-28 | [SGOYT] |
| [BGG] | MisterPinstripe | 2016-12-20 | [SGOYT] |
| [BGG] | mihnea_1309 | 2016-12-19 | [SGOYT] |
| [BGG] | spaceman23 | 2016-12-18 | [SGOYT] |
| [BGG] | mrmagpieman | 2016-12-16 | [SGOYT] |
| [BGG] | spaceman23 | 2016-12-15 | [SGOYT] |
| [BGG] | spaceman23 | 2016-12-14 | [SGOYT] |
| [BGG] | Ben_Bos | 2016-12-13 | [SGOYT] |
| [BGG] | spaceman23 | 2016-12-12 | [SGOYT] |
| [BGG] | Gizensha | 2016-12-11 | [SGOYT] |
| [BGG] | mihnea_1309 | 2016-12-10 | [SGOYT] |
| [BGG] | littlechandler | 2016-12-08 | [SGOYT] |
| [BGG] | Gizensha | 2016-12-08 | [SGOYT] |
| [BGG] | Gizensha | 2016-12-07 | [SGOYT] |
| [BGG] | repairmanjack | 2016-12-07 | [SGOYT] |
| [BGG] | Gizensha | 2016-12-06 | [SGOYT] |
| [BGG] | MadMihi | 2016-12-05 | [SGOYT] |
| [BGG] | abendoso | 2016-12-05 | [SGOYT] |
| [BGG] | CthulhuKid | 2016-12-05 | [SGOYT] |
| [BGG] | smittyohio | 2016-12-04 | [SGOYT] |
| [BGG] | solodad | 2016-12-04 | [SGOYT] |
| [BGG] | Registrau | 2016-12-04 | [SGOYT] |
| [BGG] | family_gamer | 2016-12-03 | [SGOYT] |
| [BGG] | brkmrtn | 2016-12-02 | [SGOYT] |
| [BGG] | mrmagpieman | 2016-12-02 | [SGOYT] |
| [BGG] | taeryn | 2016-12-01 | [SGOYT] |
| [BGG] | Registrau | 2016-12-01 | [SGOYT] |
| [BGG] | haplo92 | 2016-11-30 | [SGOYT] |
| [BGG] | Registrau | 2016-11-29 | [SGOYT] |
| [BGG] | Ben_Bos | 2016-11-28 | [SGOYT] |
| [BGG] | mihnea_1309 | 2016-11-28 | [SGOYT] |
| [BGG] | CRB31 | 2016-11-27 | [SGOYT] |
| [BGG] | KingOr9 | 2016-11-27 | [SGOYT] |
| [BGG] | taeryn | 2016-11-26 | Lots of theme, lots of difficulty, lots of fun. [SGOYT] |
| [BGG] | JK777 | 2016-11-26 | [SGOYT] |
| [BGG] | Sharpbeard | 2016-11-22 | [SGOYT] |
| [BGG] | Sharpbeard | 2016-11-22 | [SGOYT] |
| [BGG] | chemberger | 2016-11-22 | [SGOYT] |
| [BGG] | repairmanjack | 2016-11-22 | [SGOYT] |
| [BGG] | repairmanjack | 2016-11-20 | [SGOYT] |
| [BGG] | govmiller | 2016-11-20 | [SGOYT] |
| [BGG] | boulou | 2016-11-19 | [SGOYT] |
| [BGG] | abendoso | 2016-11-19 | [SGOYT] |
| [BGG] | boulou | 2016-11-18 | [SGOYT] |
| [BGG] | mrmagpieman | 2016-11-18 | [SGOYT] |
| [BGG] | kevinruns262 | 2016-11-18 | [SGOYT] |
| [BGG] | abendoso | 2016-11-18 | [SGOYT] |
| [BGG] | SgtTenor | 2016-11-17 | [SGOYT] |
| [BGG] | boulou | 2016-11-17 | [SGOYT] |
| [BGG] | repairmanjack | 2016-11-16 | [SGOYT] |
| [BGG] | abendoso | 2016-11-16 | [SGOYT] |
| [BGG] | repairmanjack | 2016-11-15 | [SGOYT] |
| [BGG] | mihnea_1309 | 2016-11-15 | [SGOYT] |
| [BGG] | benny1980no | 2016-11-15 | [SGOYT] |
| [BGG] | ReddWolf | 2016-11-14 | [SGOYT] |
| [BGG] | benny1980no | 2016-11-13 | [SGOYT] |
| [BGG] | abendoso | 2016-11-13 | [SGOYT] |
| [BGG] | freudianslip27 | 2016-11-12 | [SGOYT] |
| [BGG] | ReddWolf | 2016-11-12 | [SGOYT] |
| [BGG] | mrmagpieman | 2016-11-12 | [SGOYT] |
| [BGG] | Eyefink | 2016-11-12 | [SGOYT] |
| [BGG] | jvdv | 2016-11-12 | [SGOYT] |
| [BGG] | family_gamer | 2016-11-11 | [SGOYT] |
| [BGG] | mrmagpieman | 2016-11-10 | [SGOYT] |
| [BGG] | ValDoonican | 2016-11-10 | [SGOYT] |
| [BGG] | ralsar | 2016-10-20 | [SGOYT] |
| [BGG] | ralsar | 2016-10-17 | [SGOYT] |
---