Your support is needed to keep the Auction Tools and Aggregators running!If you find the tools of benefit, please consider becoming a
PATREON SUPPORTER
for either $3 or $7 per month. Thank you!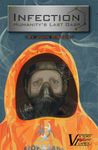 Infection: Humanity's Last Gasp (2013)
Subdomain: Strategy Games
Player Count: 1 - 1 | Playing Time: 45 minutes
Share this page on BGG by pasting the following BGG Link into any post
(click box to select all, then copy to clipboard)
.
Game Entries by Month
| | | | |
| --- | --- | --- | --- |
| [BGG] | airzonk1 | 2021-01-01 | [SGOYT] |
| [BGG] | airzonk1 | 2020-12-28 | [SGOYT] |
| [BGG] | Kush7 | 2020-11-07 | [SGOYT] |
| [BGG] | smittyohio | 2020-10-30 | [SGOYT] |
| [BGG] | pleroph | 2020-06-16 | Thematic and interesting (and timely) [SGOYT] |
| [BGG] | govmiller | 2020-04-07 | [SGOYT] |
| [BGG] | smic | 2020-03-31 | [SGOYT] |
| [BGG] | mrmagpieman | 2020-03-18 | [SGOYT] |
| [BGG] | stillxill | 2020-01-26 | [SGOYT] |
| [BGG] | Poomba5150 | 2020-01-26 | [SGOYT] |
| [BGG] | alphasyndrome | 2019-11-28 | [SGOYT] |
| [BGG] | kerskine | 2019-11-23 | [SGOYT] |
| [BGG] | Iz Nibz | 2019-10-20 | [SGOYT] |
| [BGG] | tyk567 | 2019-09-03 | [SGOYT] |
| [BGG] | tyk567 | 2019-08-31 | [SGOYT] |
| [BGG] | BrokenAxe | 2019-05-19 | [SGOYT] |
| [BGG] | Rixte | 2019-04-21 | [SGOYT] |
| [BGG] | murjani1 | 2019-03-25 | A straightforward, tense, thematic battle against a global pandemic; better hope your interns are up to the task. [SGOYT] |
| [BGG] | stillxill | 2019-03-10 | [SGOYT] |
| [BGG] | govmiller | 2019-02-11 | [SGOYT] |
| [BGG] | stillxill | 2019-01-26 | [SGOYT] |
| [BGG] | ehedin03 | 2019-01-14 | [SGOYT] |
| [BGG] | canglingy | 2018-12-03 | [SGOYT] |
| [BGG] | smittyohio | 2018-09-15 | [SGOYT] |
| [BGG] | zach66827 | 2018-07-26 | [SGOYT] |
| [BGG] | jwml | 2018-07-22 | [SGOYT] |
| [BGG] | jgatkinsn | 2018-07-14 | [SGOYT] |
| [BGG] | smittyohio | 2018-06-09 | [SGOYT] |
| [BGG] | maloma | 2018-05-16 | [SGOYT] |
| [BGG] | bills933 | 2018-05-14 | [SGOYT] |
| [BGG] | maloma | 2018-05-14 | [SGOYT] |
| [BGG] | suzyvitale | 2018-05-13 | [SGOYT] |
| [BGG] | suzyvitale | 2018-05-13 | [SGOYT] |
| [BGG] | smittyohio | 2018-05-12 | [SGOYT] |
| [BGG] | smittyohio | 2018-04-17 | [SGOYT] |
| [BGG] | smittyohio | 2018-03-14 | [SGOYT] |
| [BGG] | fee_weasel | 2018-02-28 | [SGOYT] |
| [BGG] | Redheaded Pharmacist | 2018-02-09 | [SGOYT] |
| [BGG] | govmiller | 2018-01-13 | [SGOYT] |
| [BGG] | smittyohio | 2018-01-07 | [SGOYT] |
| [BGG] | smittyohio | 2017-11-11 | [SGOYT] |
| [BGG] | jwml | 2017-10-21 | [SGOYT] |
| [BGG] | smittyohio | 2017-10-18 | [SGOYT] |
| [BGG] | Gribbon | 2017-10-18 | [SGOYT] |
| [BGG] | stevozip | 2017-10-16 | Quick game with a lot of depth to it that plays simply [SGOYT] |
| [BGG] | Ibbo | 2017-10-05 | [SGOYT] |
| [BGG] | jwml | 2017-09-20 | [SGOYT] |
| [BGG] | smittyohio | 2017-09-04 | [SGOYT] |
| [BGG] | neotrunks2002 | 2017-08-31 | [SGOYT] |
| [BGG] | smic | 2017-08-12 | [SGOYT] |
| [BGG] | jbetz45453 | 2017-07-06 | [SGOYT] |
| [BGG] | smittyohio | 2017-07-03 | [SGOYT] |
| [BGG] | Themackern | 2017-06-20 | [SGOYT] |
| [BGG] | valzi | 2017-05-07 | It's like Hostage Negotiator with less randomness, more puzzle, similar tension, and weird component quality. [SGOYT] |
| [BGG] | valzi | 2017-05-01 | My fingers are darker than they were earlier today. [SGOYT] |
| [BGG] | koinskyz | 2017-03-31 | [SGOYT] |
| [BGG] | paxdomina | 2017-03-23 | [SGOYT] |
| [BGG] | smittyohio | 2017-03-10 | [SGOYT] |
| [BGG] | ldpaulson | 2017-03-05 | [SGOYT] |
| [BGG] | smic | 2017-03-01 | [SGOYT] |
| [BGG] | suzyvitale | 2017-02-25 | [SGOYT] |
| [BGG] | smic | 2017-02-28 | [SGOYT] |
| [BGG] | Nighteyes77 | 2017-02-14 | [SGOYT] |
| [BGG] | SELFmadeMACHINE | 2017-02-11 | [SGOYT] |
| [BGG] | Nighteyes77 | 2017-02-10 | [SGOYT] |
| [BGG] | smittyohio | 2017-01-13 | [SGOYT] |
| [BGG] | haplo92 | 2017-01-09 | [SGOYT] |
| [BGG] | Huddyrx | 2017-01-08 | [SGOYT] |
| [BGG] | solodad | 2017-01-06 | [SGOYT] |
| [BGG] | ldpaulson | 2017-01-01 | [SGOYT] |
| [BGG] | smittyohio | 2016-12-24 | [SGOYT] |
| [BGG] | mattmill | 2016-12-17 | [SGOYT] |
| [BGG] | PanzersEast | 2016-12-15 | [SGOYT] |
| [BGG] | Ibbo | 2016-12-14 | Another great true 1 player - quick to set up, easy to follow, great decisions to be made. Hope to see it riding high in the [geeklist=217988][/geeklist] [SGOYT] |
| [BGG] | mrmagpieman | 2016-12-13 | [SGOYT] |
| [BGG] | smittyohio | 2016-12-11 | [SGOYT] |
| [BGG] | rangerx | 2016-12-10 | [SGOYT] |
| [BGG] | joestin | 2016-12-05 | Far and away the best pure puzzle game of my collection. [SGOYT] |
| [BGG] | Ibbo | 2016-11-28 | Great game, easy to learn, simple ruleset with good variety and cool decisions to make. Small footprint too. [SGOYT] |
| [BGG] | mortenmdk | 2016-11-12 | [SGOYT] |
| [BGG] | MadMihi | 2016-11-09 | [SGOYT] |
| [BGG] | Redheaded Pharmacist | 2016-11-06 | This is a quick solo game that is easy to learn and provides a nice puzzle to solve with a theme the science geek inside me loves. [SGOYT] |
| [BGG] | mrmagpieman | 2016-10-30 | [SGOYT] |
| [BGG] | gentle | 2016-10-19 | Fun thematic solo game, saving the world from a deadly virus. Enjoyed my first play [SGOYT] |
| [BGG] | davidbrit2 | 2016-10-03 | [SGOYT] |
| [BGG] | smic | 2016-09-26 | [SGOYT] |
| [BGG] | davidbrit2 | 2016-09-25 | [SGOYT] |
| [BGG] | Ibbo | 2016-08-23 | A great thematic solitaire game from VPG - great components, variability, puzzly gameplay. I definitely feel like a scientist when I play this. [SGOYT] |
| [BGG] | suzyvitale | 2016-08-05 | [SGOYT] |
| [BGG] | budkin | 2016-08-02 | [SGOYT] |
| [BGG] | casey nedry | 2016-06-07 | [SGOYT] |
| [BGG] | draines | 2016-06-02 | Excellent game that now has a PC adaptation. [SGOYT] |
| [BGG] | fee_weasel | 2016-05-30 | [SGOYT] |
| [BGG] | Gryphon Tracks | 2016-05-21 | [SGOYT] |
| [BGG] | Gryphon Tracks | 2016-05-01 | [SGOYT] |
| [BGG] | Ibbo | 2016-04-13 | Great solo game with nice components and variable gameplay. Hard to get at a good price in Europe. [SGOYT] |
| [BGG] | garyrbrooks | 2016-03-31 | [SGOYT] |
| [BGG] | dlikos | 2016-03-11 | [SGOYT] |
| [BGG] | solodad | 2016-03-10 | [SGOYT] |
| [BGG] | budkin | 2016-03-04 | [SGOYT] |
| [BGG] | budkin | 2016-03-01 | [SGOYT] |
| [BGG] | kittenhoarder | 2016-02-27 | [SGOYT] |
| [BGG] | mo7189 | 2016-02-22 | [SGOYT] |
| [BGG] | rangerx | 2016-02-04 | [SGOYT] |
| [BGG] | atony77 | 2016-01-25 | [SGOYT] |
| [BGG] | Eraelan | 2016-01-09 | [SGOYT] |
| [BGG] | suzyvitale | 2016-01-04 | [SGOYT] |
| [BGG] | BilboAtBagEnd | 2015-12-29 | [SGOYT] |
| [BGG] | rangerx | 2015-12-23 | [SGOYT] |
| [BGG] | ajwitkowski | 2015-12-19 | [SGOYT] |
| [BGG] | mrmagpieman | 2015-12-18 | [SGOYT] |
| [BGG] | BilboAtBagEnd | 2015-12-18 | [SGOYT] |
| [BGG] | mo7189 | 2015-12-02 | [SGOYT] |
| [BGG] | suzyvitale | 2015-11-25 | [SGOYT] |
| [BGG] | suzyvitale | 2015-11-23 | [SGOYT] |
| [BGG] | solodad | 2015-11-11 | [SGOYT] |
| [BGG] | Moe45673 | 2015-11-09 | [SGOYT] |
| [BGG] | Iz Nibz | 2015-11-06 | [SGOYT] |
| [BGG] | mo7189 | 2015-10-25 | [SGOYT] |
| [BGG] | AndrePOR | 2015-10-02 | [SGOYT] |
| [BGG] | garyrbrooks | 2015-10-01 | [SGOYT] |
| [BGG] | garyrbrooks | 2015-09-07 | [SGOYT] |
| [BGG] | Iz Nibz | 2015-09-04 | [SGOYT] |
| [BGG] | Iz Nibz | 2015-09-03 | [SGOYT] |
| [BGG] | mrmagpieman | 2015-08-03 | [SGOYT] |
| [BGG] | rangerx | 2015-07-02 | [SGOYT] |
| [BGG] | solodad | 2015-06-10 | [SGOYT] |
| [BGG] | permagoof | 2015-06-06 | [SGOYT] |
| [BGG] | eastwoodk | 2015-06-01 | [SGOYT] |
| [BGG] | joestin | 2015-05-28 | [SGOYT] |
| [BGG] | permagoof | 2015-05-23 | [SGOYT] |
| [BGG] | garyrbrooks | 2015-05-22 | [SGOYT] |
| [BGG] | Ibbo | 2015-05-16 | [SGOYT] |
| [BGG] | koinskyz | 2015-05-01 | [SGOYT] |
| [BGG] | auxierd | 2015-04-29 | [SGOYT] |
| [BGG] | Flabbergasted | 2015-04-14 | [SGOYT] |
| [BGG] | kevinruns262 | 2015-04-09 | [SGOYT] |
| [BGG] | HRune | 2015-04-04 | [SGOYT] |
| [BGG] | shacky22 | 2015-03-31 | [SGOYT] |
| [BGG] | mo7189 | 2015-03-25 | [SGOYT] |
| [BGG] | kittenhoarder | 2015-03-22 | [SGOYT] |
| [BGG] | Moe45673 | 2015-03-21 | [SGOYT] |
| [BGG] | kittenhoarder | 2015-03-19 | [SGOYT] |
| [BGG] | BirdfluNuggetz | 2015-03-17 | [SGOYT] |
| [BGG] | edosan | 2015-03-10 | [SGOYT] |
| [BGG] | jbetz45453 | 2015-03-02 | [SGOYT] |
| [BGG] | koinskyz | 2015-02-09 | [SGOYT] |
| [BGG] | Malaiser | 2015-02-04 | [SGOYT] |
| [BGG] | mo7189 | 2015-02-02 | [SGOYT] |
| [BGG] | Deathworks | 2015-02-01 | [SGOYT] |
| [BGG] | HRune | 2015-02-01 | [SGOYT] |
| [BGG] | reverendunclebastard | 2015-02-01 | [SGOYT] |
| [BGG] | shacky22 | 2015-01-20 | [SGOYT] |
| [BGG] | Iz Nibz | 2015-01-18 | [SGOYT] |
| [BGG] | eastwoodk | 2015-01-15 | [SGOYT] |
| [BGG] | garyrbrooks | 2015-01-15 | [SGOYT] |
| [BGG] | Malaiser | 2015-01-14 | [SGOYT] |
| [BGG] | HRune | 2015-01-11 | [SGOYT] |
| [BGG] | Alecc | 2015-01-07 | [SGOYT] |
| [BGG] | Wayne LaBanca | 2015-01-04 | [SGOYT] |
| [BGG] | eastwoodk | 2015-01-02 | [SGOYT] |
| [BGG] | Guillyberto | 2015-01-02 | [SGOYT] |
| [BGG] | Iz Nibz | 2014-12-13 | [SGOYT] |
| [BGG] | Malaiser | 2014-12-09 | [SGOYT] |
| [BGG] | A1B2C3D4E5 | 2014-12-08 | [SGOYT] |
| [BGG] | reverendunclebastard | 2014-12-08 | [SGOYT] |
| [BGG] | eastwoodk | 2014-12-06 | [SGOYT] |
| [BGG] | batcut | 2014-12-02 | [SGOYT] |
| [BGG] | often | 2014-12-01 | [SGOYT] |
| [BGG] | garyrbrooks | 2014-11-28 | [SGOYT] |
| [BGG] | Moe45673 | 2014-11-25 | [SGOYT] |
| [BGG] | theritzes | 2014-11-23 | [SGOYT] |
| [BGG] | koinskyz | 2014-11-23 | [SGOYT] |
| [BGG] | theritzes | 2014-11-21 | [SGOYT] |
| [BGG] | Iz Nibz | 2014-11-01 | [SGOYT] |
| [BGG] | joestin | 2014-10-26 | [SGOYT] |
| [BGG] | mo7189 | 2014-10-24 | [SGOYT] |
| [BGG] | Malaiser | 2014-10-22 | [SGOYT] |
| [BGG] | Iz Nibz | 2014-10-13 | [SGOYT] |
| [BGG] | Alecc | 2014-10-12 | [SGOYT] |
| [BGG] | kerskine | 2014-10-03 | [SGOYT] |
| [BGG] | brkmrtn | 2014-10-02 | [SGOYT] |
| [BGG] | AndrePOR | 2014-10-01 | [SGOYT] |
| [BGG] | rangerx | 2014-10-01 | [SGOYT] |
| [BGG] | garyrbrooks | 2014-10-01 | [SGOYT] |
| [BGG] | rangerx | 2014-09-30 | [SGOYT] |
| [BGG] | Gexxmo | 2014-09-24 | [SGOYT] |
| [BGG] | kittenhoarder | 2014-09-18 | [SGOYT] |
| [BGG] | couchoud | 2014-09-18 | [SGOYT] |
| [BGG] | yetirydr | 2014-09-02 | [SGOYT] |
| [BGG] | dbelcher | 2014-08-31 | [SGOYT] |
| [BGG] | gersh77 | 2014-08-25 | [SGOYT] |
| [BGG] | skoon | 2014-08-18 | [SGOYT] |
| [BGG] | repairmanjack | 2014-08-18 | [SGOYT] |
| [BGG] | repairmanjack | 2014-08-17 | [SGOYT] |
| [BGG] | rangerx | 2014-08-15 | [SGOYT] |
| [BGG] | hiimjosh | 2014-08-10 | [SGOYT] |
| [BGG] | joestin | 2014-08-01 | [SGOYT] |
| [BGG] | often | 2014-07-31 | [SGOYT] |
| [BGG] | rangerx | 2014-07-31 | [SGOYT] |
| [BGG] | Moe45673 | 2014-07-23 | [SGOYT] |
| [BGG] | Yaboo | 2014-07-16 | [SGOYT] |
| [BGG] | Malaiser | 2014-07-12 | [SGOYT] |
| [BGG] | Jdoki | 2014-07-03 | [SGOYT] |
| [BGG] | Malaiser | 2014-06-28 | [SGOYT] |
| [BGG] | rangerx | 2014-06-17 | [SGOYT] |
| [BGG] | couchoud | 2014-06-12 | [SGOYT] |
| [BGG] | Fumanstu | 2014-06-08 | [SGOYT] |
| [BGG] | Moe45673 | 2014-05-30 | [SGOYT] |
| [BGG] | joestin | 2014-05-29 | [SGOYT] |
| [BGG] | Moe45673 | 2014-05-15 | [SGOYT] |
| [BGG] | garyrbrooks | 2014-05-09 | [SGOYT] |
| [BGG] | mikolajl | 2014-04-22 | [SGOYT] |
| [BGG] | jacobjcoon | 2014-04-20 | [SGOYT] |
| [BGG] | Eyefink | 2014-04-13 | [SGOYT] |
| [BGG] | Deathworks | 2014-04-13 | [SGOYT] |
| [BGG] | Deathworks | 2014-04-13 | [SGOYT] |
| [BGG] | Deathworks | 2014-04-12 | [SGOYT] |
| [BGG] | joestin | 2014-04-11 | [SGOYT] |
| [BGG] | garyrbrooks | 2014-04-03 | [SGOYT] |
| [BGG] | couchoud | 2014-03-30 | [SGOYT] |
| [BGG] | Moe45673 | 2014-03-26 | [SGOYT] |
| [BGG] | garyrbrooks | 2014-03-19 | [SGOYT] |
| [BGG] | garyrbrooks | 2014-03-12 | [SGOYT] |
| [BGG] | repairmanjack | 2014-03-10 | [SGOYT] |
| [BGG] | often | 2014-03-07 | [SGOYT] |
| [BGG] | Moe45673 | 2014-03-01 | [SGOYT] |
| [BGG] | Moe45673 | 2014-02-19 | [SGOYT] |
| [BGG] | garyrbrooks | 2014-02-13 | [SGOYT] |
| [BGG] | garyrbrooks | 2014-02-03 | [SGOYT] |
| [BGG] | gertbert | 2013-12-19 | [SGOYT] |
| [BGG] | mikolajl | 2013-12-09 | [SGOYT] |
| [BGG] | permagoof | 2013-11-28 | [SGOYT] |
| [BGG] | yetirydr | 2013-10-01 | [SGOYT] |
| [BGG] | mikolajl | 2013-09-30 | [SGOYT] |
| [BGG] | pusherman42 | 2013-08-28 | [SGOYT] |
| [BGG] | pusherman42 | 2013-07-31 | [SGOYT] |
| [BGG] | mikolajl | 2013-07-19 | [SGOYT] |
| [BGG] | mikolajl | 2013-06-03 | [SGOYT] |
---